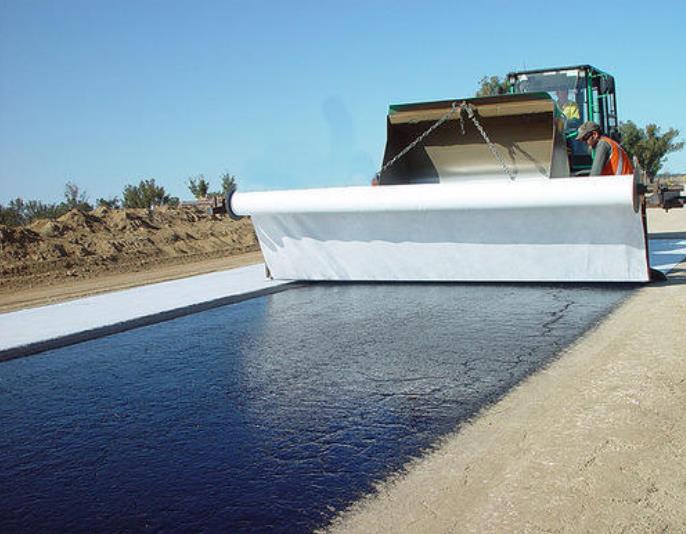 Product Description
Continuous filament spunbonded needle-punched nonwoven geotextile makes through the polyester filament and the solidifying methods, its fiber array three-dimensional structure. Besides has the good mechanical properties, but also has good vertically and horizontally to the draining water performance, extends the performance, the penetrating quality, and the filtering quality and high bears the acid and alkali, to bear the aging and so on good chemical properties.
Product Features
1.Net holes are easy for net blockage, since net structure formed by indefinite fider has variable and motility.
2.It has high permeation and can keep good permeation under the pressure of earthwork.
3.It has corrosion resistance, uses chemical fiber such as polypropylene or Dacronas raw material, has 4. acid and alkali resistance, hasn't corrosion or moth eating and has oxidation resistance.
4.It has convenient construction, small weight and convenient uses.
Product Application
1. Reinforcement in backfilling of retaining walls, or panels used to anchor retaining walls. Build a wrapped retaining wall or bridge abutment.
2. Reinforce flexible pavement, repair cracks on the road, and prevent reflective cracks on the pavement.
3. Increase the stability of gravel slopes and reinforced soil to prevent soil erosion and soil freezing damage at low temperatures.
4. The isolation layer between the ballast and the subgrade, or the isolation layer between the subgrade and the soft foundation.
5. The isolation layer of artificial fill, rockfill or material field and foundation, the isolation, filtration and reinforcement of different frozen soil layers.
6. The filter layer of the initial upstream dam face of the ash storage dam or tailings dam, and the filter layer of the drainage system in the backfill of the retaining wall.
7. The filter layer around the drainage pipe or around the gravel drainage ditch.
8. Filter layer of water well, decompression well or baroclinic pipe in water conservancy project.
9. Geotextile isolation layer between road, airport, railway ballast and artificial rockfill, etc. and foundation.
10. Vertical or horizontal drainage inside the earth dam, buried in the soil to dissipate the water pressure of the void.
11. Drainage behind the anti-seepage geomembrane in the earth dam or earth embankment or under the concrete cover.
12. Eliminate the water seepage around the tunnel, reduce the external water pressure on the lining and the water seepage around the buildings.
13. Drainage of artificially filled ground-based sports grounds.
14. Highways (including temporary roads) are used to strengthen weak foundations in railways, embankments, earth-rock dams, airports, sports fields and other projects.