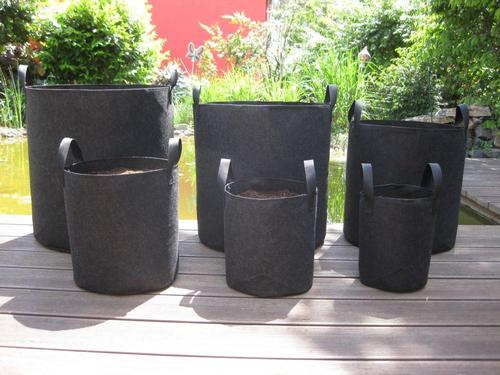 Product description:
Planting bag is also known as beauty planting bag, transplantation bag, seedling bag, nutrition bag, etc., is the use of fiber non-woven fabric manufacturing, is a new container culture technology.
Product features:
Planting bag of low cost, high efficiency, prevent aging, air permeable, good pull property, strong and durable,it can cultivate all kinds of nursery stock products, reduce the production cost, shorten the production cycle, save water, protect wet protect fat, ensure the survival rate of seedlings, the green plant is not affected by seasonal (especially in the northern drought less rain and desert planting, planting environment, the survival rate higher than usual, is more obvious).At the same time, the whole year seedling products transplant root integrity, ensure a high transplant survival rate, can achieve the expected growth of the advantages of seedlings.
Product application:
Seedlings, flowers, trees, etc.
Spec
Type
Fabric Weight
Color
1 Gallon
1. With two handles

2. No handles
120 ~ 400gsm
White
Black


Green

Sand

2 Gallon
3 Gallon
5 Gallon
7 Gallon
10 Gallon
15 Gallon
20 Gallon
25 Gallon
30 Gallon
45 Gallon